Expert Picture Hanging & Artwork Installation Brisbane
We provide flexible, affordable and prompt picture hanging services for commercial and residential installations across the greater Brisbane region
Hangzen picture hanging Brisbane specialises in art, mirror and picture hanging systems installation for private and commercial clients all over Brisbane. We also service the neighbouring regions including Sunshine Coast and Gold Coast. Our professional installers are expert in handling the staging of galleries and commercial fit-outs for businesses and organisations or displaying cherished art and installing mirrors for homeowners.
Our installers provide customised solutions as per client specifications and budgets. When you call Hangzen, our staff will set an appointment with you for an onsite visit. It is important for us to talk to you personally on project expectations. We also like to do actual measurements so we can give an accurate no obligation quote. If you contract our services, our team will be really happy to share their expertise.
It is a no-brainer for me to give a score of 10. Kirk & Louis who continue to be very accommodating, helpful and professional.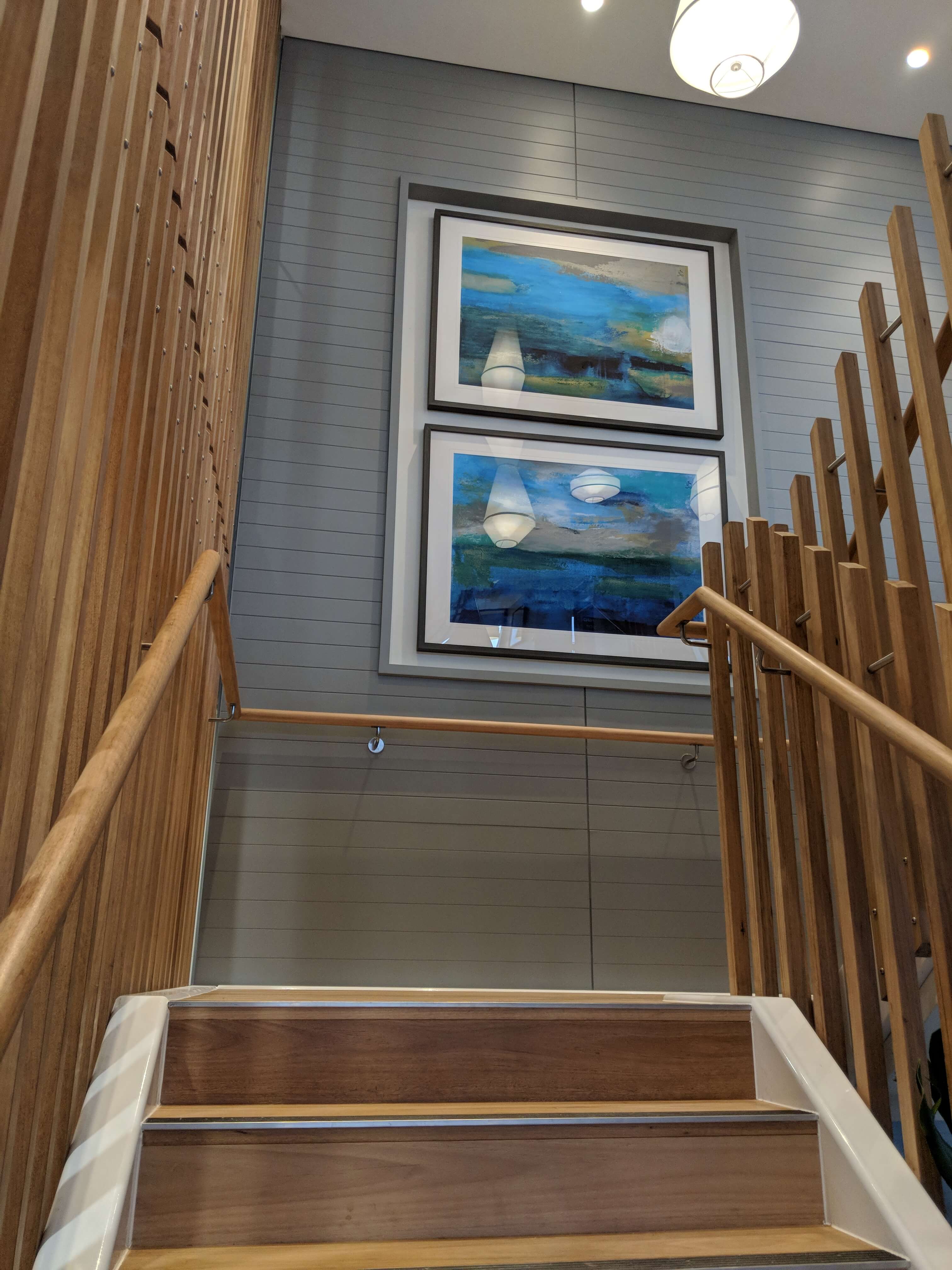 Hangzen picture hanging Brisbane provides the following types of art and photo installation services. If you don't see what you need in particular, please feel free to ask.
Family walls
Picture rail system
Feature walls
Triptych
Art collections
Salon-style
Art exhibits
Art hanging in stairwells
Hangzen does not only have access to high-quality picture hanging kits and supplies. We also provide placement advice service together with our installation services. So, if you feel you're not the type of person who should be making decisions about art placement, then you'd be happy to talk with our professional installer. With their genuine love for this job, years of experience and credibility to give expert advice, you can rest assured that you will have a visually stunning living space.
Hangzen Picture Hanging Brisbane Team
Our Brisbane specialists are capable of handling different projects requiring different installation techniques. With knowledge of the appropriate supplies for hanging various items, you can expect an excellent finished project. The task can involve picture rails, salon-style displays, pocket displays, paper grips or anti-theft security hanging. Hangzen has partnered with top manufacturers of gallery grade picture hanging products. We also have built up a team of expert installers to be certain that all products used and services offered are always top quality. Client satisfaction is our number one goal, so we do not compromise work quality. Hangzen also offers a lifetime guarantee on all installation services. We want our clients to have complete peace of mind whenever they choose to contract with us. Would you like to hire Hangzen Picture Hanging Brisbane to beautify your house or office? Call us, email us or use the contact form on this page. Our staff will be glad to answer all your queries as soon as possible.
Picture Hanging System Installation
Most people would like to adorn a blank wall in their living room or along the hallway with a gallery of pictures. It's one form of entertaining guests as well. But you might find it a challenging task. Just think about the hammering or drilling, the lifting and climbing involved. Want an easier way to get this job done? Call the Hangzen team and you'll have your photo gallery in no time. We've done this job over and over for different clients in Brisbane.
Don't hesitate to call us even if you think your project is not a big one. Hangzen accepts both big and small art, photo or mirror installation project. Our installation experts love to help and add real value to our client's home or business. We're happy when our clients are happy with our fast, efficient and great installation service. We appreciate the many positive feedbacks that our clients already shared with us.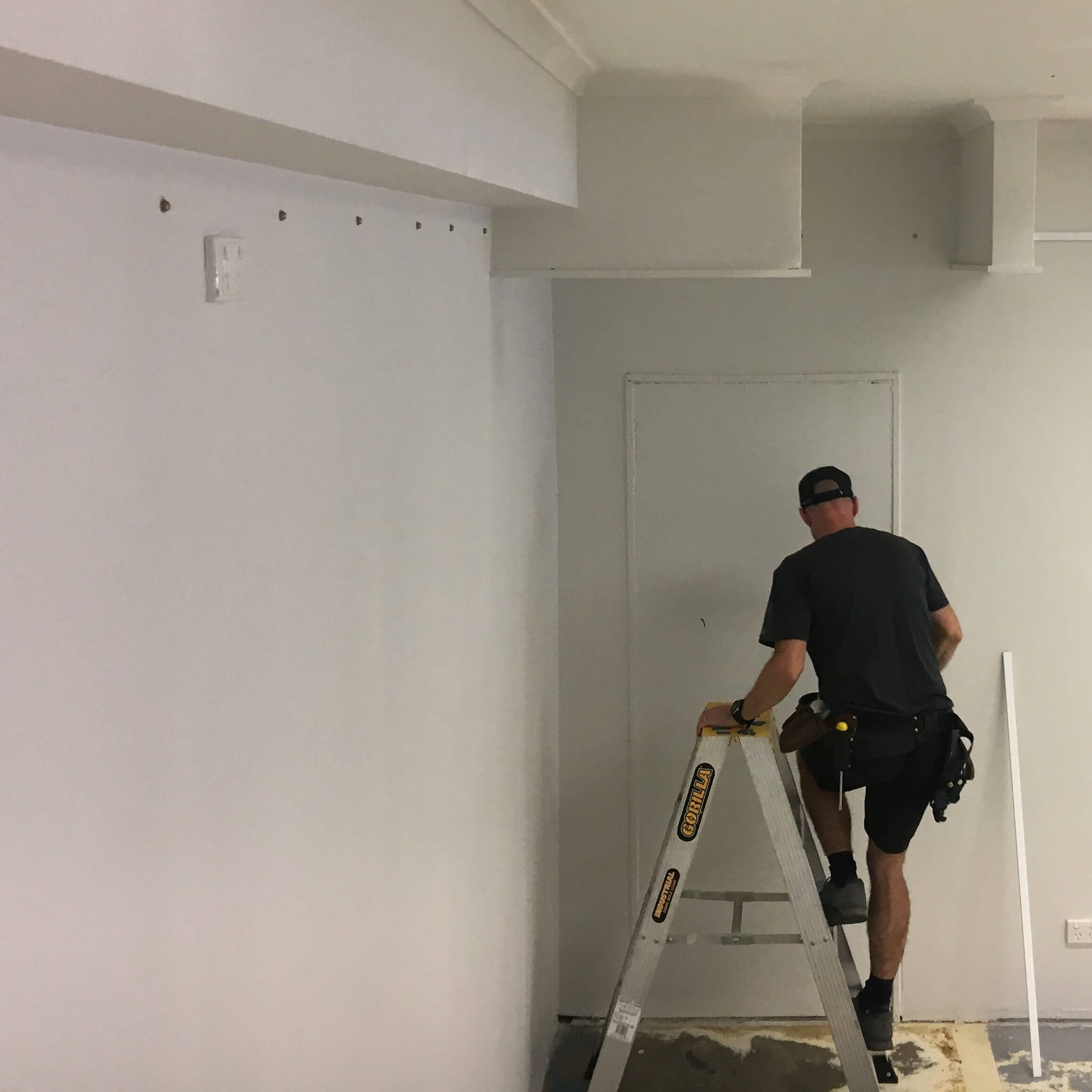 What Makes the Picture Hanging System So Special
A lot of people already discovered the many reasons why the picture hanging system is the best. The best thing is changing up the art or photo collections on a feature wall is so easy with the picture rail system. There is no hard labour or technical skill required to use the system. Once installed, you can use it again and again without creating visible holes or ugly spots on the wall.
Picture rails are suitable to use on solid walls, partition walls, wooden walls, ceilings, or even marble walls. If you're an art collector, you will love our rail systems. We supply and install picture rails to offices, homes, museums, artist studios, and commercial premises.
If you want a no-fuss way to install your collection, give Hangzen Picture Ganging Brisbane a quick call at 1300 88 36 15. Check our no-obligation service quote and see if it's worth your effort, time and budget.
How Does Hangzen Proceed With A Request For Installation Service?
After Hangzen gets your request, our staff will schedule a visit to discuss the project. Our professional installers will take accurate measurements of the required installation work. We will show a portfolio of sample installations when you need more ideas on the project design. After finalizing the specifications, we provide a no-obligation estimated quote for the project.
Hangzen already served a lot of clients – homeowners, businesses, art galleries, museums, universities and showrooms in Brisbane. We're proud to say that we have maintained the quality and consistency in every project we completed.
If you need help in hanging items in your home or commercial space, call Hangzen to get the job done for you. Our professional installers can safely and correctly handle the installation work whether it's just one big piece of artwork or a collection of different sized photos or mirror pieces.
Hangzen's Expert Placement Advice
Most people like to have a beautifully designed living space. But, not everyone possesses the creativity to do so. For some, even the simple task of hanging framed pictures or art on a wall can seem intimidating. The good news is Hangzen provides expert placement advice for all kind of wall hangings. If you don't know the proper placement of your collection of articles or photos on your feature wall, our professional installers can help you.
Our installers have at least 9 years of experience in the art installation business. So we are positive that we'll always achieve the kind of results that our clients like. Some projects may involve hanging items with awkward shapes, big sizes or heavy weight on hard to reach areas. No worries because all our installers know exactly what to do using the proper installation technique.
Call Hangzen picture hanging Brisbane now to enjoy expert placement advice from our installers. Be sure to inquire about this feature when you talk to one of our experienced installers.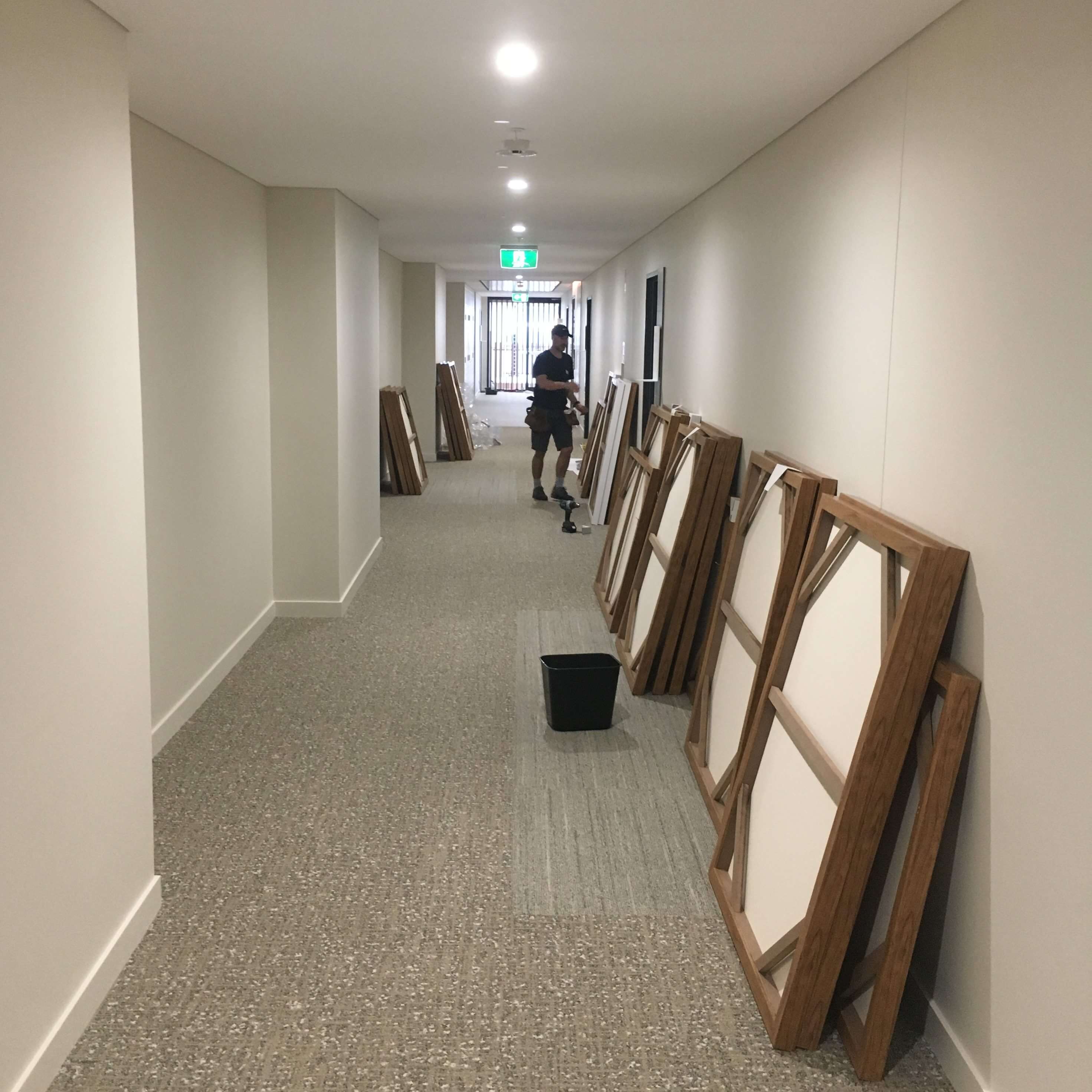 Commercial Fit-Out Services
Many fit out specialists need to follow strict deadlines in designing the final touches of a new building. Yes, some of them could do the hanging of mirrors, pictures and art pieces themselves. But with the help of art & mirror installation specialists, the project will get done much faster and more accurately. Fit out specialists need not worry that there will be mistakes in drilling or hanging. There will be no damaged articles or many ugly holes on the wall.
Our team is very careful in the handling and installation of all framed articles and decorative pieces. The installation work is 100% guaranteed to be of excellent quality. And if any repair work arises in the future, Hangzen's lifetime guarantee means that we will take care of it.
Security Hanging of Art and Pictures
When installing valuable art or photo pieces, it is highly recommended to use security hanging products. These products can protect your art from theft, tampering or falling accidentally off the wall. This type of installation is a must in high traffic places like shopping centres, galleries, exhibits and universities.
Hangzen picture hanging Brisbane uses gallery-grade security hanging products manufactured by popular brands. What makes these products work to hang articles securely are three important elements: the steel hardware at the back of the frame, the special locking mechanism in it and the special device used to unlock the hardware and remove the artwork. With this security customization, owners and exhibitors can have peace of mind that their treasured collections will be safe while on display.
How to Avail Of Hangzen's Art Hanging and Mirror Installation Services?
Hangzen offers picture hanging and art installation services all over Brisbane. We offer efficient and prompt services be it inside a home, a museum, an office or university. All installed items will be in their proper place, safe and secure as long as they remain hanging on the wall.
You can get an appointment through our bookings page. Or use the contact form to leave a message with the information of the type of service you need. Please mention also your available date and time for a site visit from our installer.
To get a quick quote of an installation project, call Hangzen picture hanging Brisbane on 1300 88 36 15 or send an email request. Mention your requirements and preferred time for our team's on-site visit. With the information you provide, we will reply with an estimated quote as soon as we can.
Request A Free Quote
We are ready to help – there is no job too big or too small. Our team of specialists are available Australia-wide. Contact us on 1300 883 615 or complete this form to request a Free, No-Obligation Quote.