Expert Picture Hanging & Artwork Installation Sunshine Coast
We provide flexible, affordable and prompt picture hanging services for commercial and residential installations across the greater Sunshine Coast region
Hangzen Picture Hanging Sunshine Coast is a professional art and mirror hanging service provider that is available in Caloundra, Noosa, Nambour, the Sunshine Coast Hinterland area and even in places further north of the region. Our mission is to assist homeowners, organisations and business establishments with their required art hanging, picture hanging and mirror installations. Notably, we take pride in the expertise of our installers who have years of experience in the industry. We specialise in custom art hanging and mirror installations that look just right on your wall or space. So, just give Hangzen a call and our experienced installers will come to you and provide a free on-site measure and quote. Above all, you don't have any obligation to accept the quotation unless you are ready to contract our services.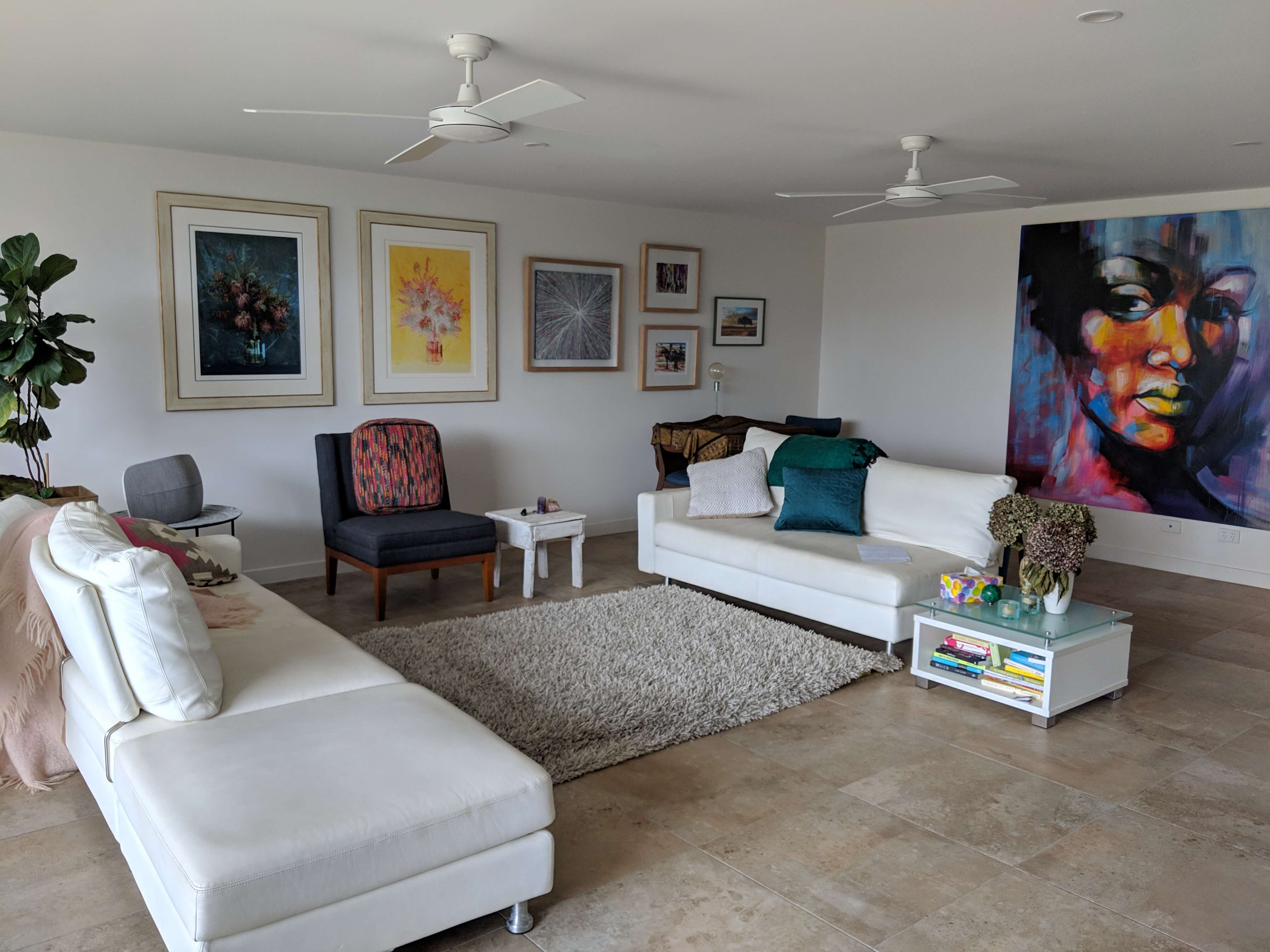 Our Sunshine Coast team have the ability to call in our Brisbane team-members for larger installations, this team is also highly regarded and will assist when necessary. The core service we provide is art hanging and mirror installation with specialties in the following:
Family wall
Feature walls
Triptych
Picture rail
Salon-style
Art exhibitions
Art hanging in stairwell or high areas
Art collections
Hangzen's art hanging and mirror installation service comes with our placement advice service. As a matter of fact, we want to make your place look just perfect. This can be achieved when everything in it contributes to a well-balanced overall visual impact. Furthermore, it requires accurate placement not only of your art, photo or mirror collections on the wall but also the matching furniture and accessories surrounding it. Our Hangzen Picture Hanging Sunshine Coast specialists know the different installation techniques appropriate for the different types of jobs. Whether you need paper grips, picture rails, pocket displays or salon-style wall displays, our highly skilled team knows how to do the job right the first time. We also have a supply partner that equips us with gallery grade products to make sure we only come up with top quality installations. So, we are 100% confident of our installation work. Clients' satisfaction is our priority so when you contract our installers to work on your projects, we offer a lifetime guarantee. Want to hire our services now? Our friendly customer support team is just waiting to answer your call or email. Also, you can simply fill out the form on this page to let us know how we can help you.
Picture Hanging System Installation
If you just relocated to Sunshine Coast, you may need some assistance with the final touches of your home. Perhaps you want a feature wall in your living room or a gallery of your photo collections along the corridor. Spare yourself from the trouble of lifting, moving, hammering and hanging the pictures in place. Allow the Hangzen Art & Mirror Installation team to come to your place and fix everything for you. We'll take care of hanging your priceless artwork or framed family picture as if this was our project in our own home. Our team always delivers a top-notch quality of service irrespective of whether the project is big or small. Moreover, you'll be happy to see that our installation jobs are precise and of superior quality, as promised. Our skilled installers can affix your treasured pieces to the wall using the appropriate art or picture hanging system. For instance, you can choose the classic hanging system or the anti-theft security hanging solutions depending on your needs.
Why use a Picture Rail Hanging System
There are certain advantages to using the picture hanging system. Particularly, if you frequently add new pieces to your art collection and remove old ones or you often change the positions of framed pictures, a picture rail system is a good option. Furthermore, you can do it as often as you want, quickly and easily without using nails or leaving ugly holes on your walls. Where can the picture rail system be used? This system is perfect for art or picture hanging in
Modern homes
Galleries
Museums
Exhibitions
Artist studios
Shopping malls
Showrooms
For the best looking installation and arrangement of art and mirrors, call Hangzen Picture Hanging Sunshine Coast at 1300 88 36 15. All home, office and business owners are welcome to avail of our no-obligation service quote.
What type of service can I expect from Hangzen Picture Hanging Sunshine Coast
After Hangzen receives your call, we will schedule a visit to your place to conduct an ocular inspection of the job that needs to be done. Our professional installers will take measurements of your art pieces and show you our portfolio of sample installations. At this time, we also discuss the recommended hanging or installation technique for your project. Knowing what you need and want will allow us to prepare an accurate quotation that will be provided to you with no obligation. Our skilled installers have successfully created many customized art and mirror installations for residents, art galleries, art exhibitions, museums, interior designers, showrooms and businesses. With the years of experience gained from doing all these types of projects, Hangzen has become known for its meticulous service and consistent quality. Do you need someone to hang or install that art, photo or mirror on your feature wall? Hangzen Picture Hanging Sunshine Coast can do it, whether it's just one big piece or many pieces of varying sizes.
Hangzen's Expert Placement Advice
Some people simply don't have the eye for design. So, even the thought of doing proper placement of pictures on a wall can be intimidating. The good news is Hangzen can help in making such decisions to clients who are unsure of where to hang a piece or a group of artworks together. All Hangzen installers have at least 9 years of experience in art hanging and mirror installation. So, with our professional advice, every client can rest assured that the right placement of their artworks will be achieved. Even with awkwardly shaped objects, very large or heavy pieces to be hung on difficult to reach areas, our installers would know the right thing to do. Book now to get Hangzen's placement advice service! You'll be glad to see your artworks and photos hang up to the correct height and placement on the wall.
Commercial Fit Out Services
Hangzen Picture Hanging Sunshine Coast has been working with fitout specialists to complete a new building with elegant artwork. Fit out specialists can do the job of hanging pictures, but it takes someone who has been doing it for a long time to do the placement, handling and installation right. It would be a big No No if an artwork or framed prints become damaged at the last minute of installation due to an error in hanging. The temperature fluctuation in the room can also affect the art pieces. It is critical that the handling and installation of delicate masterpieces are done right the first time. Our installers make sure of it. Also, if any repairs needed in the long run, Hangzen will take care of it as we provide lifetime guarantee to all of our services.
Security Hanging
There are special situations where you need to hang artworks in a secure way. Particularly, Such installations are necessary in public areas, pubs, shopping centres, schools, galleries, exhibitions and other high traffic areas. It is a must to
protect artwork from theft or tampering
hung securely in place objects that are very big or heavy
keep artwork hung in congested places from being knocked off the wall
Hangzen Picture Hanging Sunshine Coast specializes in the security hanging of arts and photos. Three elements are necessary for the secure hanging of products: the special locking mechanism, the steel hardware behind the frame and the special tools for unlocking the hardware and removing the artwork. With the supplied top-grade security hanging product, Hangzen's installed artwork is totally secure and safe from theft or damage. When a client requests for extra customizations, we will do our best to accommodate the customer's requirements.
How do I book for hanging and installation services by Hangzen?
Hangzen is a professional picture and mirror hanging service provider. We are glad to serve the needs of residential customers as well as corporate clients. Above all, hiring our expert installers means that your home or new office will have a stunning art, photo or mirror on display. The décor objects, whether big or small, light or heavy, regular or irregular shaped, are hung securely and in the right placement. If you want to secure our professional services, you can get a booking by going to Hangzen online. Firstly, choose the service you need from the list and indicate your preferred date and time of installation. Then, check which service option you need: the largest or heaviest picture or mirror not exceeding 12 kgs / 120cm or the largest or heaviest picture exceeding 12kgs / 120cm. For an estimate quotation, call Hangzen Picture Hanging Sunshine Coast on 1300 88 36 15 or write an email to Hangzen. Also, provide us with all the information relating to your hanging & installation project and indicate your preferred date for the initial site visit. Based on the information provided, we can give an estimated cost and availability of service ASAP!
Request A Free Quote
We are ready to help – there is no job too big or too small. Our team of specialists are available Australia-wide. Contact us on
1300 883 615
or complete this form to request a Free, No-Obligation Quote.